We Are Intelligent IT Designs: The IT Team That Fights For YOU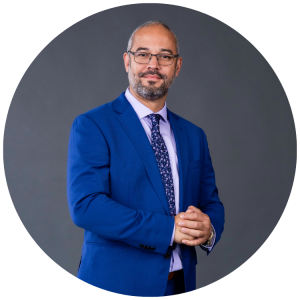 When Paul Villanueva was young, his enemy was a group of guys from another neighborhood in the Bronx. He developed a heightened sense of security because he knew that if he was not vigilant, alert and security-conscious, the streets would eat him alive. He'd committed to being better than the streets and so he left to build a life for himself and his family. He was a hard worker, dedicated and curious, eventually standing out amongst other employees at a textile design studio in Manhattan. Here he was introduced to technology and responsibility. He quickly excelled at using technology to make processes faster and more efficient, oftentimes lugging a cart with a desktop computer home on the subway during weekends, just to keep up with the workload.
His passion and skill with technology were evident, and he pursued an education in IT at DeVry University. After graduating with flying colors, he was promptly hired by IBM. After a few years at IBM, he worked as an assistant IT manager for a bank and then the IT director for a consumer lending company. He rose through the ranks quickly because he was used to making things work with the resources he had available; he is a creative, intelligent problem-solver and a valuable asset to his clients.
But his work in IT came with a new enemy, "cyberthugs" who were violating business owners' systems and threatening their livelihoods. Paul's experience with life on the streets made him uniquely able to help businesses identify weaknesses and create solutions to protect themselves. That's why Paul founded Intelligent IT Designs in 2006 – to build a team and continue doing what he's always been best at: providing complete protection to businesses across the Hudson Valley.
Security Is More Than A Feature: It Must Be A Foundation
At Intelligent IT Designs, we know that protecting against cyber criminals requires a foundational solution – solutions designed with acumen, experience and data. While new features and apps are tantalizing, proper protection means having a solid understanding of who you are protecting and what you are protecting against. We know it's not simply adding features and functions – security must be foundational.
We like to think of your security like building a house. You, the homeowner, might be concerned with how the kitchen or bathroom looks, but the architect (Intelligent IT Designs) is concerned about making sure the foundation can hold the load safely and not be knocked down. We won't let you get knocked down.
You need TRUSTED solutions that WORK.
How Intelligent IT Designs Protects You From Cyber Threats
Intelligent IT Designs is a COMPLETE technology solutions provider specifically designed to fight against cyber criminals and protect client systems. We will not stand by and watch vulnerable businesses accept patchwork solutions from tech amateurs that leave them open to attacks from criminals. You need TRUSTED solutions that WORK.
We're The Experts So You Don't Have To Be – Our IT specialists are seasoned, professional technicians with at least five to 10 years' experience. We regularly provide our technicians with continuing education that teaches industry best practices and informs them on the latest cyber security trends. Let us be the experts, so you can focus on what YOU do best.
Unique Solutions Tailored To Your Business Needs – We're called Intelligent IT Designs because we build innovative solutions that are unique to your business needs. Our custom, full-service packages deliver what you need and want without overstepping the boundaries of your budget. From cloud services to data backup, Intelligent IT Designs is here to team up with your company for expert support.
30-Minute Response Time: Guaranteed – Cyber threats are constantly lurking, so you don't have time to wait when you're at risk of an attack. Our team of seasoned technology specialists will answer your call, e-mail or service ticket immediately or respond in less than 30 minutes – guaranteed.
Expert Communication – Understanding your needs as well as educating your team on industry trends is essential in building a strong technology and security foundation. We'll meet with you regularly in person and through e-mails to check in, address questions and make sure everything is running smoothly from the ground up.
On-Time And On-Budget: Guaranteed – We build lasting relationships with our customers and create custom-tailored solutions that solve your problems the FIRST TIME, within budget. This means we will not surprise you with added or hidden charges because you need and deserve to have a security team behind your business you can trust.
One-Stop-Shop – We handle all aspects of your IT infrastructure, including hardware and software management, vendor relationships for your Internet connectivity, website management and maintenance renewals, and ALL other technology needs.
Lightning-Fast Repairs – Time is a commodity none of us can afford to waste. We won't allow you to wait around for a repair or solution. We use remote access to log in quickly to give you support immediately. In situations when you need in-person assistance, we have IT experts prepared for dispatch to your office.
Customer Service Done RIGHT – We value the people behind the business. We believe in treating our clients with compassion and understanding, and in speaking plainly – there's no geek-speak with us. You need effective solutions so your business can grow. When you're happy, we're happy. We guarantee our IT consulting and technology support services will work every time.
Like you, we know what's at stake in your business: highly sensitive, confidential data about your clients, intellectual property and employees. From cloud services to data backup, Intelligent IT Designs will team up with you for expert support and protection. We're your IT PARTNER, and our goal is that you have absolute peace of mind.
Call us TODAY and learn how Intelligent IT Designs will protect your business, secure your reputation and save you time and money you can reinvest into the growth of your business TOMORROW.