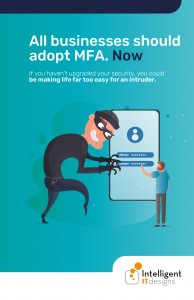 All businesses should be using MFA as it provides great protection against cyber attacks and other security threats. Our new free guide tells you all you need to know.
Does IT jargon feel like an alien language? That's why we've created our new, free IT Jargon Buster. It's a great A-Z of just some of the terms you might hear when you're talking with an IT expert.
Learn why you might be vulnerable, what you need to look out for and what you can do to protect yourself from criminals.
The growth of cloud computing has completely changed how we work. But security in a cloud environment can create a long list of its own challenges.
In our new guide, we cut through the jargon to give you all you need to know to protect your business. You'll discover what you can do for yourself to stay safe in the cloud, and where some professional help will make a big difference.
Everything you want to know about password managers for your business.
As IT professionals, the concept of an operating system is a basic principle for us. Without Windows, macOS or even iOS, our devices wouldn't run. But what about an operating system for your business? Is that a crazy idea?