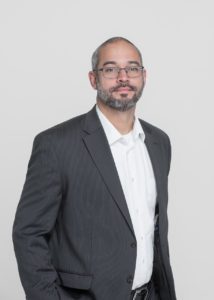 Paul Villanueva will team up with other leading IT professionals to release the new book, "On Thin Ice," a collaboration of expert advice on the Information Technology industry
Hudson Valley, NY – August 28, 2020– Director of Cyber Security, Paul Villanueva, recently signed a publishing deal to co-write the forthcoming book titled On Thin Ice, published by TechnologyPress™. In addition to Villanueva's expertise, the publication features content from leading IT Marketing Consultants and Experts. The book will be released under TechnologyPress™, an imprint of CelebrityPress® LLC, a leading business book publisher that publishes books from ThoughtLeaders® around the world.
On Thin Ice is tentatively scheduled for release in late fall of 2020.
Paul and the other authors have chosen to receive no royalties from the book, and to instead donate them to the St. Jude Foundation.
Paul Villanueva was selected to be an author due to his willingness to share his vast knowledge about the IT industry. His professional expertise makes him an asset to the publication and will surely benefit a wide range of readers.
For more information about the upcoming release visit www.CelebrityPressPublishing.com.
About Paul
Paul Villanueva has been helping businesses design, deploy and manage technology-based solutions to business problems in New York for over 20 years. Paul was born and raised in the Bronx. From his father who came from Puerto Rico in the 60's, he acquired an extremely strong work ethic. His father also taught him to deeply appreciate and pursue higher education and knowledge. Because of this, Paul is an avid lifelong learner who has developed a mastery of many things. Thank goodness Paul developed an interest in information technology at an early age.
Over the years, Paul has earned Microsoft Certification, Cisco Certification, an Associate's Degree in Electronics Engineering and a Bachelor's Degree in Technical Management. He has also taken many other classes he has applied to his work – such as Database Design, Project Management and Systems Analysis and Design. He also taught himself PHP, XML, HTML, JavaScript, SQL and more. Paul is a proud graduate of the Goldman Sachs 10,000 Small Businesses, where he competed with other businesses to win the opportunity to learn about entrepreneurship and business development with experts from Babson and The Wharton School.
Paul worked for several businesses like IBM where he provided system support services for midrange systems and supercomputers to many large companies in Manhattan. He also held IT management positions in the banking and consumer lending industries and was an early leader in securing the systems under his management. Before this, he was a field engineer who ran around NYC solving computer, network and printer problems for businesses in the garment district. He remembers when Windows was first used, and recalls saying to himself, who needs a mouse when everything can be done faster from the keyboard – a comment he now smiles about.
His vision was that he would take all his big IT experience and use it to provide creative IT solutions that solve business problems, provide a competitive advantage, reduce costs and increase business efficiency. Slowly but surely when business owners met with Paul, they quickly saw that he was the asset they needed to help move their technology and businesses forward.
Having become an expert in information technology and cyber security, Paul left his position in 2006 to start an IT services and consulting business, Intelligent IT Designs. Here he leads a team of technology professionals who share his vision of providing excellent and secure IT services to small and medium-size businesses. Together, the team of experts at Intelligent IT Designs manage, support and secure the information technology systems of businesses all over New York. Under Paul's leadership, Intelligent IT Designs provides small businesses with creative and innovation solutions to their business challenges and opportunities. Intelligent IT Designs understands that many businesses struggle with keeping up with technology and security, and their goal is to remove that burden from businesses so that they can better focus on their real objectives.
You can connect with Paul Villanueva at:
www.IntelligentIT.net
877-914-3577 x701
Expert@IntelligentIT.net
About TechnologyPress™:
TechnologyPress™ is a leading business and technology book publisher that publishes books from thought leaders around the world. TechnologyPress™ has published books alongside Robin Robins and other Cybersecurity experts. TechnologyPress™ is an imprint in partnership with CelebrityPress® LLC. CelebrityPress® has published books alongside Jack Canfield, Brian Tracy, Dan Kennedy, Dr. Ivan Misner, Robert Allen, Michael Gerber, Tom Hopkins, and many of the biggest experts across diverse fields.
###
Contact:
Mandy Tawbush
Dicks + Nanton Celebrity Branding Agency®
800-980-1626
Mandy@dnagency.com